The Lead Flow
Lead generation – and more importantly, lead flow – is not a single step. It must be effectively managed to achieve success. Lead flow begins with the sales cycle, then introduces your prospect to your company, your brand, and your offerings.  Your sales and marketing process complete the process and turn the prospect into a customer.
The chart below identifies the 5 key steps in a typical Lead Flow Conversion Process.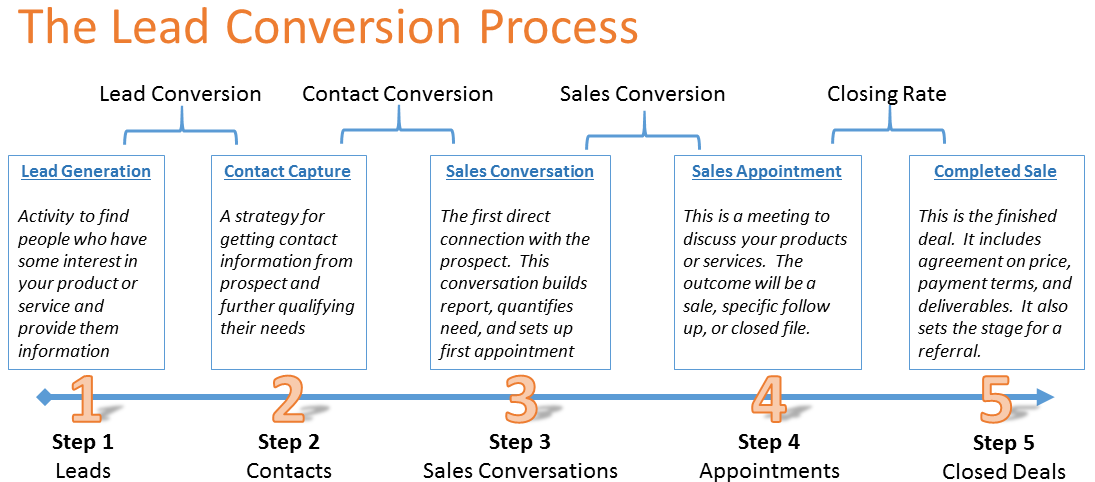 Managing the Process
Many businesses manage leads only when they walk in the door. These businesses often miss opportunities. There is no 'right' or 'wrong' way to generate leads. But success requires you to be aware of the process a prospect takes as they navigate your sales cycle.
Businesses who cultivate 'word of mouth' referrals often minimize traditional 'lead generation' activities. Instead they focus on networking to create these first connections.  Other businesses invest heavily in web optimization and advertising.  These efforts bring large numbers of 'leads' who must be engaged, captured, filtered, and nurtured. Both methods are effective for filling a sales pipeline
Capturing Connections
Differences in prospecting create lead flows that arrive through different channels. Website visitors fill out online forms. Networking contacts meet for a cup of coffee.  Both are potential prospects and must be added to your lead flow system.
This lead flow system is called Customer Relationship Management or CRM.  CRM systems are as simple as a stack of business cards or as complex as you can make them. An ideal CRM allows for prospect capture, filtering, lead scoring, and follow up. This is your lead flow system.
Capturing connections online can be as simple as an online form.  That should not, however, be the only way to capture a lead. What about a 'word of mouth' connection who does not fill out the online form?  Or a networking contact who you meet at an event? How do you get all your prospects into your CRM?
The Cook Book
Effective lead flow is created by activity.  Lead flow activities that fill your pipeline are called your 'Cook Book'.  Each step is like a recipe. Taken together, the activities result in a sale. Your process – your cookbook –  should be well understood, measurable, and repeatable.
Begin by creating a list of lead generation activities that would generate connections for your business.  Some examples include:
Business Networking
Referral Requests
Website Optimization
Social Media Posts
Advertising
Outbound Prospecting
Lead Flow Follow Up
Develop a standard 'follow up' process that works for all your connections.  Develop a way to filter your list based on their interests. This will allow to follow up based on your prospect's interests. Your CRM should also create lead scoring to evaluate your prospect's urgency. Some ideas for simple follow up include:
Thank you email after a networking event – for prospects, ask to meet for a one on one to learn more about them
Regular informational newsletter with a call to action
Connection via LinkedIn (or your go-to social platform)
Questionnaire asking about their ideal referral match (then follow that up with a referral for them)
Regular outreach to stay in touch
Each of these elements allow your prospect to engage, find value, and better inform you of their interest and urgency.
So, Now What?
Are you a bit confused? Maybe overwhelmed? Don't worry. Simply fill out the form on this page and we will be happy to provide a free 20 minute video chat consultation. We'll review what you are currently doing, discuss ideas for improvement, and see if there is any way Leadstra can help. No cost, no obligation.